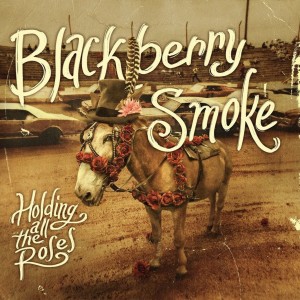 E' indubbiamente la band del momento. Vengono da Atlanta, GA e il loro ultimo cd intitolato Holding All The Roses sta spopolando negli Stati Uniti sia tra il pubblico country che tra gli appassionati di rock sudista. Si chiamano Blackberry Smoke e la band è composta da Charlie Starr (voce, chitarra), Richard Turner (basso, voce), Brit Turner (batteria), Paul Jackson (chitarra, voce) e Brandon Still (Tastiere). Hanno aperto i concerti di tante superstars ( in particolare Zac Brown) e saranno in Italia nel mese di Giugno. Ecco le date: 28 Giugno Roma al Postepay Rock e il 29 Giugno a Sesto San Giovanni (MI) al Carroponte.

Prevista per i primi di Maggio l'uscita del nuovo album di Keith Urban intitolato Ripcord (Capitol Nashville). Si tratta dell'ottavo album in studio del singer/songwriter della Nuova Zelanda e contiene gli ultimi due mega successi Break On Me e John Cougar, John Deere, John 3.16.
Nuovo album anche per Black Shelton intitolato If I'm Honest. Il nuovo singolo Came Here To Forget è appena entrato nella speciale classifica country di Billboard.
Dopo il tour in Europa (21 Aprile Dublino, 22 Aprile Londra, 23 Aprile Manchester e 24 Aprile Glasgow) Dierks Bentley è in procinto di pubblicare il nuovo cd intitolato Black.
Si chiama Maren Morris, e viene da Dallas TX. Il nuovo album, intitolato Hero è un crossover tra country tradizionale, rock e Americana. Nonostante la giovane età (classe 1990) questa ragazza del Lone Star State ha già ottenuto un discreto successo come songwriter avendo scritto brani per Tim McGraw (Last Turn Home) e Kelly Clarkson (Second Wind). Il suo brano My Church è uno dei grandi successi di questo 2016.

In una conferenza stampa piuttosto affollata il re della country music, George Strait, ha annunciato una serie di concerti a Las Vegas NV. "Las Vegas-ha detto Strait- has been a big part of my country music career…the crowds are great and they come from all over the place, because there is so much to do here. A concert is kind of a bonus." George Strait infatti all'inizio della sua carriera ha spesso suonato in hotels famosi come il New Frontier, il Golden Nugget e il Mirage. "George has played an important role in our city's entertainment history and we celebrate today as a city to welcome him back," ha annunciato Rick Arpin, Senior Vice President della Las Vegas Arena. "We can't wait to have him in our arms again." Si tratterà molto presumibilmente di una serie di concerti tributo ai quali parteciperanno tanti ospiti illustri. Facile prevedere il tutto esaurito.

Secondo alcuni autorevoli giornali Americani, ecco l'elenco delle 10 canzoni country più belle degli ultimi mesi : Wasted Time (Keith Urban), Fight Like A Girl (Kalie Shorr), T Shirt (Thomas Rhett), Think Of You (Chris Young featuring Cassandee Pope), Bluebonnets (Aaron Watson), You Should Be Here (Cole Swindell),Nobody To Blame (Chris Stapleton), Head Over Boots (Jon Pardi), My Church (Maren Morris) e Humble And Kind (Tim McGraw).
Infine ecco le date del Tour di Neil Young+Promise Of The Real: 13 luglio Piazzola sul Brenta (PD) Anfiteatro Camerini, 15 Luglio Roma Terme di Caracalla, 16 Luglio Lucca Summer Festival e 18 Luglio Milano Market Sound